DAVID E. ANDREWS

              12-12-73

Deputy David Andrews was murdered in a gas station restroom by a mugger.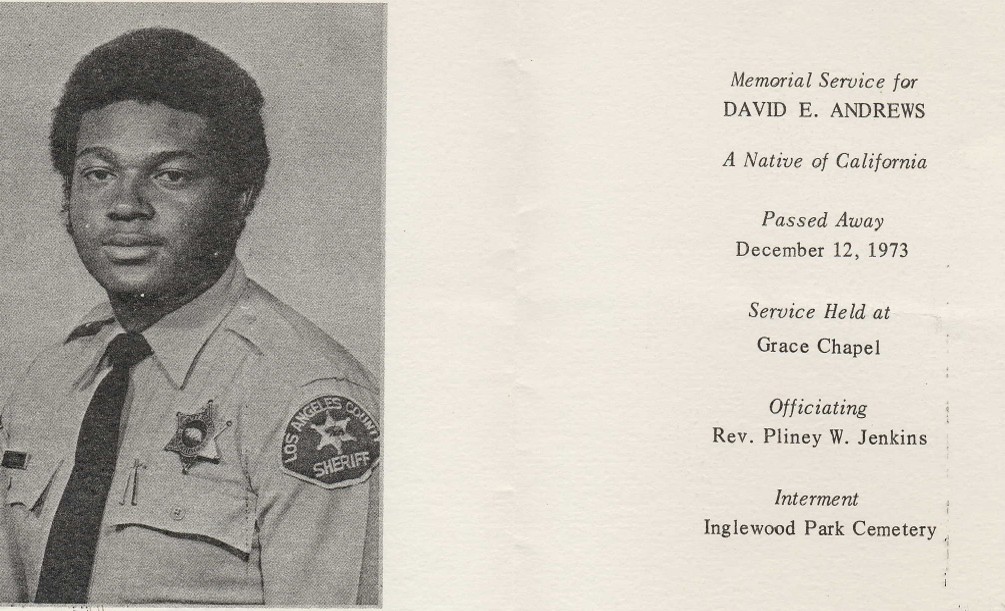 Cole Hughes Wednesday, 7/3/02, 3:10 PM

I've been trying for several years to get Deputy David Andrew listed on the LA County Memorial. We were both in academy class #151 and he was the first from our class to be killed. Up until 1998 I had always assumed that he was listed on the memorial at the Academy as killed in the line of duty. I was rather shocked to not find his name on the memorial. Although he was killed off duty, there is little doubt in my mind that the killers knew that he was a deputy. They killed him with his own gun and took his department ID. When I contacted Sheriff's Admin. almost two years ago I was told that there were no witness that could say David identified himself as a deputy and therefor his death was not considered to be job related. I also asked Sheriff's Admin. if a group could get together and have a plaque made up for David and placed on the lawn near the LA memorial and was told no. I was told that all I could do would be to contact the captain at Century Station and ask for his permission to place Davids' picture in the lobby. A long time has passed since his death and I think that if the same incident happened today it would be considered job related. At the time of his death David was engaged to be married and I don't beleive that his family knew about benefits connected with incidents away from the work place that were considered to be job related or in the line of duty. The California Peace Officers Memorial web site now includes his name. I am so thankful that you have included him on the FPK web site. He would be proud. I'll sleep much better knowing that we have not forgotten the sacrifice that one of our own made to the citizens of Los Angeles County. God bless you David. May you rest in peace.

Dates at FPK:  FPK Narco 84 & 85

Dick Shear Thursday, 7/4/02, 10:58 AM

Kudos to Cole Hughes. I see he hasn't lost his talent for excellent written expression. I may have my stories confused (happens now and then at this age) but I believe that David's killer(s) were caught and sent to prison. Just a few years ago, their conviction(s)were overturned with the help of a famous group of bad guy supporters. In any event, I worked 11B day car with David for quite a while. He had a brother on the Department, but I lost track of him. It's funny but over the years I have witnessed the racial thing in LA get blown out of proportion. We both used the "N" word and he frequently called me "Snowflake". We were partners and exchanged barbs and compliments regularly. David was a personal friend. My wife and I attended one of his birthday parties at his home. I didn't have an afro and he made sure it didn't matter. If someone could give me the specifications for a plaque, consider it a done deal. I still remember picking up steak sandwiches and strawberry shakes and parking the radio car in that park where they have the Watts Festival. We would catch a glimpse of the ladies at the pool and a pretty decent soccer game, then on to bust the bad guys. Best regards, Dick Shear, Las Vegas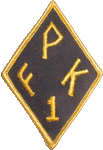 Jack Miller Thursday, 7/4/02, 2:12 PM

Bill: I've got a hundred dollar bill I'll contribute toward the Brass Placque(s), just tell me where to send it. How was this situation handled by the Dept and/or Workmans Comp.? Did Andrews have a family (wife & Kids)? Maybe they need our help more than a memory needs a placque. we may be able to do both if necessary, all it takes is that we work together. I'm not a bleeding heart, but there are a lot of us living FPK vets and a very few real FPK hero's who gave it all for the job. Maybe we who are left can do something for this guy or his family. Regards Jack Miller

Dates at FPK:  '61-'66

Bill Bernsen Thursday, 7/4/02, 3:26 PM

JACK MILLER & OTHERS....Cole Hughes seems to be the most informed about Dep. Andrews. Perhaps he could work thru Sheriff's Relief.

Dates at FPK:  72-76

Cole Hughes Friday, 7/5/02, 4:47 AM

Good to hear from old friends and new ones. Thanks for the support. I thought I was swimming up river by myself. When I called the Sheriffs' Academy and asked why his name was not on the memorial they said that they would have to check it out and get back to me with an answer. When they did call several days later they said that they had never even heard of a deputy David Andrew. On one hand I was so mad I wanted to scream and on the other I just wanted to cry. I did some pretty extensive research on David Andrews death after that. I found out that LAPD handled the homicide investigation. I spoke with a homicide dective who pulled the old report and we went over it in detail on the phone. We both came to the conclusion that now days his death would probably be listed as on duty. What was really weird was the day that I spoke to the detective on the phone was the same day the main suspect was getting released from prison. Strange how some things work. I honestly think that David put the bug in my head. I will dig up the notes that I had compiled on David and try again. I do remember a Sgt. from Sheriff's Admin. saying that it would be hard to convince the Department to list his death as on duty now that so much time had passed. Not so much because of the way David died but because the department might be responsible for back payments to any of Davids' survivors. I now live in Oregon so everything I've done has had to be over the phone. Once I dig up my notes with the LAPD officers name and the case number perhaps someone living in the LA area can help me with the Sheriff's Relief end. Again, thank you all for your encouragement and help. Firestone station my be gone but the memories and commitment to each and everyone who worked there will live forever.

Dates at FPK:  Narco 84 & 85

Bill Bernsen Friday, 7/5/02, 8:21 AM

AS I READ THE GUESTBOOK ENTRIES RE; DEP. ANDREWS I AM GETTING THE SAME FEELING I HAD 25 YEARS AGO. IT IS THE SAME FEELING YOU GET WHEN A CALL FOR ASSISTANCE GOES OUT AND EVERYONE IS ROLLING TO THE LOCATION. THE DEPARTMENT DID NOT WANT TO MANY UNITS TO ROLL AND RISK A T.C. OR PERHAPS USE UP TO MUCH EXPENSIVE GASOLINE, BUT FIRESTONE, FROM THE CAPTAIN TO THE STATION MECHANIC WOULD ROLL. THIS IS THE FIRESTONE/CENTURY WAY. THIS SITUATION WITH DEP. ANDREWS IS A 997 AND THEY SHOULD HEAR IT AT HEADQUARTERS; E-MAILS WORK GREAT.

Dates at FPK:  72-76

Curtis Jackson Saturday, 7/6/02, 7:05 PM

I'm very glad an interest has been re-kindled re: David Andrews. Bill, I was hoping it would when I gave you his name months ago. Thanks again for including him. David had just been assigned to work station gangs with me a week before his death. I could tell in that short time he was special. He had great enthusiam and was excited about learning something new. It was truly a loss when David's life was cut short. Dick you were right. A few years ago his conviction was overturned and he was released. The witnesses were, I'm sure, coherced to recant their story. The crooks name was (my memory is also fading) Benny "cool breeze" Powell. I assisted initially in the investigation but was advised it was well in hand. Which it was. Every thing came together and his killer was arrested. David's brother worked Lennox. After David's death I tried to get the Department to consider his death as on duty. I think his name would have eventually been added but some how it fell through the cracks. I think because we didn't handle it. The Dept. has and continues to recognize other officer's deaths that have less "on duty" connection. Their names are justifiably on the list but so should David's. If some of you old timers can remember, I know there was a memorandum briefed about a "punk" who would try to take deputies guns from them. I think the memo was initially generated from Lennox personnel and was briefed just prior to David's death. I still believe the memo refered to Powell but I could never verify it. Maybe someone working the streets in the early seventies can remember it. This was a factual memo. Not one made up to fit the circumstance. If it can be traced back it would definitely expedite David's recognition as another good cop who gave his all.

Bill Bernsen Wednesday, 7/3/02, 5:03 PM

COLE.....NOW THE WORLD KNOWS DEP. DAVID ANDREWS. YOUR GUESTBOOK ENTRY WILL BE ADDED TO HIS PAGE. THE CALIF. PEACE OFFICERS MEMORIAL SITE WILL BE ADDING HIS PICTURE AND STORY ONLINE SOON. THE PURPOSE OF THE FPK SITE IS TO BY PASS THE BUREAUCRACY....PERHAPS SOMEONE READING THIS ENTRY WILL HAVE A BRASS PLAQUE CAST AND IT WILL SUDDENLY APPEAR ON THE WALL. IF IT IS TAKEN DOWN,"DAMN THEM", AND PUT ANOTHER ONE UP.....THIS IS THE FIRESTONE/CENTURY WAY.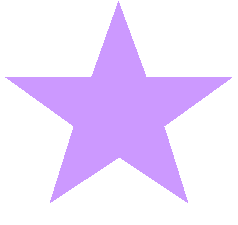 Dick Shear Sunday, 7/7/02, 6:48 PM

Cole, Kurtis and others. I know a bull dog free lance reporter in Los Angeles who's specialty is special interest stories. He is X-CIA and knows what it's like to swim upstream. Had to leave his wife (Vietnamese) behind when we exited Viet Nam. Sad story. If their is an inequity with the David Andrews story, all we need to do is point him in the right direction, and I promise justice will prevail. Please contact me at pem@lvcm.com Best regards, Dick Shear, Las Vegas

Mark McKenzie Monday, 7/8/02, 9:14 AM

Curtis - Retired Sgt Fred Montaldo came up with the "punk's" name. It was Raymond Lewis George. He was heard to brag that he could take a dep's gun while facing him & shoot it upside down. He tried that tactic unsuccesfully with a Deputy Givens at Lennox because Givens was left handed.

Dates at FPK:  '72-'74

Curtis Jackson Monday, 7/8/02, 1:39 PM

Thanks Mark for the info. I had always associated that memo as possibly being Powell. Fred is absolutely correct though. It was Raymond George. I'm glad some of the "old timers" still have a strong mind. Mark it's good seeing your name. I know you must have a few 10-30 stories to tell. Put um' down.

Jim Fosdyck Tuesday, 7/9/02, 3:12 PM

Hey Mark, whats up? Remember 12F? Before there was a Carson Stn. I remember David Andrews funeral. Hundreds of brother officers were there. I found the phamplet they gave out at the funeral (with David's picture, etc.) in my Department scrap book. I forwarded it to Bill and the CPOM. I glad to see renewed interest his case.

Dates at FPK:  1972 - 1974

Curtis Jackson Tuesday, 7/9/02, 8:55 PM

I'm sorry Mark. I was "cornfused". Bill can you find out who the contact people would be re:trying to get David's case looked into again. I'm sure a number of us would like to contact them to solicit their help. We also have a few retired department executives from FPK who might lend a hand or point us in the right direction.

Bill Bernsen Wednesday, 7/10/02, 2:40 AM

TO ALL....Cole Hughes is point, inasmuch as he lives in Oregon he needs a contact person in L.A., to help him with Sheriff's Relief. (see Cole's entry on 7-5- 02 @ 4:47 a.m.). Perhaps Cole and Shear's press contact can put together a story. This would be a very good time for some positive press for the the Department since the recent Inglewood Video. It's always the timing.

Dates at FPK:  72-76

Cole Hughes Wednesday, 7/10/02, 8:46 AM

I sent Dick Shear an email last night (7/9/02). As soon as he responds I'll work out the details with his contact in the LA area. I will also get in touch with Sheriffs' Relief and see what they recommend. When I first attempted to get answers about Davids' death and the lack of a memorial plaque, I just dealt with the Sheriffs' Admin. I guess I was so focused and upset with the Department that I overlooked Sheriffs Relief, Alads, PPOA, etc. Bill, your FPK website is a God send. I wish I would have found it sooner. To see everyone rally behind David is more than just heartwarming. Names of people coming to Davids' aid bring back a flood of memories. All of them good. Each and every one of you that worked at FPK is somehow connected to all the others. You have seen the best, and the worst, that the world has to offer. Dispite all odds you still carry on the Firestone tradition of holding your head up and getting the job done, no matter what the cost. God Bless You All.

Dates at FPK:  Narco 84 & 85

Mike Devereaux Thursday, 7/11/02, 6:59 AM

Cole have been reading your plea for help. Don't know you personally nor David, but know you as a firestone dep. which is a world apart from anyone else. I live in Idaho as do some other firestone deps. My hat's in the ring along with Jack Miller and anyone else that can help in some way. My old training officer is an attorney in Monterrey Co. Calif. and I will e-mail him and see if he throw in his hat too, I'm sure he will. Whatever it takes, let me know. My e-mail address is on Moon's retired list, so write me.....Mike

Dates at FPK:  65-69

CLAUDE ANDERSON Thursday, 7/11/02, 4:53 PM

I HAVE BEEN READING ABOUT DAVID ANDREWS...I NEVER MET THE MAN AS HE CAME AFTER MY TIME, HOWEVER HE'S FIRESTONE! IF YOU NEED ANY DONATION JUST LET ME KNOW...I'LL TRY TO GET MY CONTACTS AT PPOA IN ON THIS! DON'T WORRY WE'LL MAKE SURE HE GETS HIS NAME ON THE WALL!

Dates at FPK:  1958-1970

JAMES FOSDYCK      Thursday, 7-18-02

I just recieved an e-mail saying David's photo is up on the CPOM

webpage. They asked for a synopsis of his death.  Can you or someone familiar with those details contact Frank Domingo at

www.camemorial.org Text of Mr. Domingo's message: Dep. Andrews' photo is online. Feel free to email me a story/synopsis and I will post it online.

Bill Bernsen Thursday, 7/18/02, 3:47 PM

COLE.....DAVID'S PHOTO IS NOW ON THE CALIFORNIA PEACE OFFICERS MEMORIAL WEB SITE. THEY ASKED FOR A SYNOPSIS OF HIS DEATH; PLEASE CONTACT FRANK DOMINGO AT www.camemorial.org

Cole Hughes Thursday, 7/18/02, 6:27 PM

Thanks again Bill for hosting such a great website and all your help with David Andrews. I'll contact the California Peace Officers Memorial folks asap. Still working with several others on getting Davids name on the LA County Memorial. It will happen, just a matter of time. I will keep everyone updated on "our" progress and will not hesitate to ask for help when needed. Thank you all again for not forgetting about David. Seems like many of us have had him in our thoughts for years. You're all a great bunch to be associated with. Cole Hughes

Dates at FPK:  Narco 84 & 85

Bill Bernsen Friday, 7/19/02, 4:27 PM

COLE.....CONTACT JIM FOSDYCK jcfosdyc@lasd.org re; Dep. Andrews.... Jim; I lost your most recent e-mail re: the new contact, so a direct contact to Cole is better.

Dates at FPK:  72-76

JIM FOSDYCK Friday, 7/19/02, 6:09 PM

COLE, KEN RYALL (LASD RET AND FPK VET) WORKS AT SRA. HE SAID HE WOULD HELP IN ANY WAY HE CAN. HE WAS SHOCKED TO KNOW DAVID DIDNT HAVE A PLAQUE AT THE LASD MEMORIAL AT THE ACADEMY/STAR CTR. HE LOOKED UP DAVID'S DOB AND DATE OF HIRE IN THE SRA RECORDS FOR ME TODAY. I FORWARDED THAT INFO TO CPOM. HE GAVE ME SOME CONTACTS AT LASD HQ AND PERSONNEL. I'LL CALL THEM MONDAY. BILL GAVE YOU MY E-MAIL AT WORK. SEND MESSAGES TO ME THERE. I'M THERE MON - THU. I JUST SENT A SYNOPSIS OF PHOTO OF A NORWALK DEPUTY KIA IN 1974 TO CPOM. THEY PUT IT ONLINE THAT SAME DAY. THE CAPTIN AT NORWALK WILL ALSO DO WHAT HE CAN TO HELP WITH GETTING ANY LASD DEPUTIES PHOTOS,ETC ON THE CPOM.

Dates at FPK:  72-74

JIM FOSDYCK Tuesday, 7/23/02, 7:42 PM

Cole, et. al., I am working on getting some info on the "official" reason why David didn't get a plaque at the LASD memorial. I did learn that those decisions are the responsibly of the Sheriff at the time of the incident. I have been talking to someone at Sheriff's Headquarters. They are going to look up David's file. However, they can't right at this time because they are very busy preparing for the Medal of Valor awards. I don't know for certain, but it sounds like the Sheriff will have the last word whether or not David gets a plaque. We probably need to gather as much documentation as possible, preferably official LAPD reports, then submit those to Sheriff Baca.

Dates at FPK:  72-74

Cole Hughes Tuesday, 7/23/02, 10:21 PM

Jim, Ken, Dick and everyone else who knew David; his picture is now on the CPOM website. Thanks again Bob, I know you were behind that somehow. I'm sending Frank at CPOM the newpaper clipping dated 12/12/73 from the Orange County Register and I understand that it will accompany his photo. Jim, thanks again for helping to obtain a copy of the homicide report taken by LAPD. When I last spoke with one of the homicide detectives(2 yrs ago?) about the incident, the only thing that was missing in the report was whether David identified himself as an officer. Kind of hard to document if the only two witnesses to the incident are the suspects. I doubt that they would admit they knew they had killed a cop. Not that killing a cop would add any more time to a convicted killer's sentence. I do remember that he was killed with his own service revolver but I don't remember if his ID was taken or found at the scene. Seems to me that his wallet was not taken which might rule out the robbery motive. With that out of the picture, why would they have killed him? Might be an angle to present the case to the Sheriff. I hope that he gives the benefit of doubt to David. It's a small reward for such a tremendous sacrafice.

Dates at FPK:  Narco 84 & 85

Cole Hughes Tuesday, 7/23/02, 10:38 PM

Bill, "Gadget" please forgive me for calling you Bob. Not that Bob is a bad name, but it's not yours! The last name I should screw up is the webmasters'. I owe you big time.

Dates at FPK:  Narco 84 & 85


Brad Welker Wednesday, 7/31/02, 9:59 PM

I haven't looked at the site for a couple of weeks so I missed much of the David Andrews information. My memory is that he was robbed in a gas station's rest room at 35th St and Exposition, and killed after his Sheriff's badge was found. He was driving his new Lincoln Continental and the adam henry followed him in thinking he was wealthy. Paul Brown and I stood by the casket at his viewing and met all the family.I recall his brother was a TST Deputy named Jesse who died of natural causes later. We looked for a suspect named "Cool Breeze" who hung out at the pool hall at 92 and Beach. I didn't think it was Raymond Louis George, but if Curtis Jackson says so it must be true.My recollection is that he was convicted of murdering a peace officer, which ought to make the decision about the wall for the Sheriff. If the legend of the 1860's Sheriff who is on the wall after being shot by a jealous husband is true, Dave deserves the honor.

Dates at FPK:  73-80


Cole Hughes Saturday 11-16-02 

Chuck Jackson has done a lot of follow up and has gotten statements from the last two parloe hearing where persons from homicide have testified before the board that deputy Andrews had identified himself as a deputy before he was shot.  I think Chuck is in the process of presenting the info to the Sheriff.  Sounds like we stand a good chance of getting

a plaque real soon.  When I get home I'll forward Chuck's latest email to you for further details.  At this point I am Jazzed!  I will be there when David gets his plaque.  Thanks again for all you do for each and

every one of us. 

From: "COLE HUGHES" 

To: fpk90001@yahoo.com

Subject: David Andrews

Date: Mon, 9 Dec 2002 09:38:32 -0800

Thought I'd bring you up to date on the latest news about David Andrews.  Sheriff Baca has decided that his name should be included on the Memorial Wall as killed in the line of duty.  WE'VE DONE IT!  He will be recognized at the next Memorial Ceremony which I think is in May.  A big thank you goes out to Charles ("Chuck") M.Jackson.  Without his help this may have never happened.  He managed to dig up two old memos sent to the Board of Prisons way back in 1983.  The Captain of LASD homicide and the Commander of Detectives at Newton Division of LAPD, both concurred that David was murdered solely because he identified himself as a Deputy Sheriff at the time he was being robbed. 

Everyone that took part in this mission should be very, very proud.  This effort was nothing short of what I saw during my time at the Stone.  We accomplished astounding things back then and continue to do so long after the station was closed.

We are truly a "Band Of Brothers" in every sense of the word.

God Bless each and every one of the men and women that made Firestone what it was, and still is today.

Cole Hughes

Click for details

   PHOTOS

Hello Cole Hughes,

You don't know me but I am the sister of David E. Andrews who was killed in the line of duty (after almost 30 Yrs).  A friend saw the e-mails on fpk.homestead, and e-mailed me with the info.l  I am so happy that his name will finally be added to the list of others who were killed in the line of duty.  I always thought that it should have been added at the time, however we got nowhere with it.   I would like to have more info by talking to others or yourself as to who spearheaded this effort.  I am so greatful to whom ever.  I was contacted by someone from the Dept. in regards to a memorial service and I and my family will surely be there, we have waited so long for this moment.  There were two other friends, that David had on the dept. and I would like someone with the dept to contact them to share in this moment with us.  Their names are Robert Hood and and I believe George Ricks, I may have the first name wrong.  I remember he hung out with those two. Hood I believe was in the academy with David.  I am filled with so much emotion right now that words can't explain.  I would like to thank all of the persons who wrote messages on that homestead web site, please relay my sincere thanks to all .  Its been about 30 yrs and I can remember as if is was yesterday, I lived with David at the time of his passing and I still can't seem to get over it.  He was such a loving person and someone who would give you the shirt off his back, he deserves the best.  I have not been able to really celebrate Christmas ever since that day, it happened right before in 1973.  I hope I didn't yak your head off too much, but I just really to thank you from the bottom of my heart and well as my family.  Its especially hard at this time because we have lost so many members of my family since and we have to bury a family member this Sat.

P.S.  I hope to hear from you soon

Alene Andrews-Smith 

From: David Galloway

To: fpk

Sent: Friday, June 19, 2009 9:27:34 PM

Subject: Deputy David Andrews L.A. County S.O.

I am unsure of who this email belongs to. It came up in a search for information on Deputy Andrews. Deputy Andrews died the same year that I "graduated" kindergarten, thousands of miles from my home. Nonetheless, he is another Brother in Blue that I will fellowship with in heaven one day!   To the family of Deputy Andrews: May God Bless You and Comfort You in your Loss!

With Great Respect,

Deputy David Galloway

Transylvania County S.O.

N.C.